Bathurst Hotels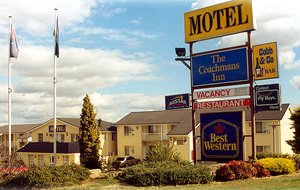 Sundowner Bathurst

19 Charlotte Street
Bathurst, NW AU
Best Western Coachman's Inn Motel

Corner Great Western Highway & Oberon Road
Bathurst, NW AU
Rating: MOBIL RATING:
Whether you are traveling for business or pleasure, the Best Western Coachman's Inn Motel is pleased to provide modern and spacious accommodation that is sure to suit your every need. Newly renovated in warm, natural tones, our comfortable rooms and the inviting Cobb & Co Bar and Restaurant promise a soothing end to a busy day. Our facilities range from 4 star spa rooms to quality standard rooms. We are sure that whatever capacity you are traveling in, the Best Western Coachman's Inn Motel will offer a style to satisfy your needs as well as your bu ...
Comfort Inn Governor Macquarie

19 Charlotte Street
Bathurst, NW AU
Located just 1km from Mount Panorama, the home of V8 Supercar racing. The Comfort Inn Governor Macquarie offers a range of accommodation including, standard, deluxe, executive, and family rooms, has restaurant and bar on the premises. Bathurst has a growing population of around 37,000 in a broad economy with a range of industry and retail companies. There are a variety of restaurants and cafes, and the city's vibrant past has left a legacy of tourist attractions. We are in walking distance to all ...
Check Hotel Availability
Worldwide Hotels