Geraldton Hotels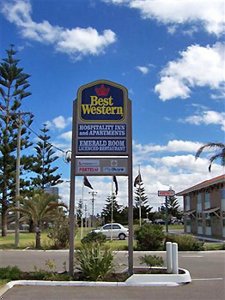 Best Western Hospitality Inn Geraldton

169 Cathedral Avenue
Geraldton, WT AU
Rating: MOBIL RATING:
This 3 ?? Star rated Geraldton, Western Australia hotel offers great customer service, a convenient location and spacious guest rooms for an affordable rate. Welcome to the Best Western Hospitality Inn Geraldton, Geraldton's premiere property, where guests will find the consistent friendly service and comfortable accommodations they deserve. This coastal Western Australia hotel features 47 well-appointed, spacious guest rooms each featuring cable television and high-speed Internet access for guests' convenience. Enjoy dining at the onsite restaurant be ...
Comfort Inn Geraldton

107 Brand Highway
Geraldton, WT AU
Located 250 metres from swimming beach. Hotel has large rooms with separate dressing rooms and bathrooms. Family operated. Some rooms have double-glazed windows. AU Star Rating: 4 Front desk hours: 7:00am-8:00pm. If arriving outside of these hours, please contact the hotel to make arrangement or use the night phone. NQT-Room rate is the same for 3 or 4 persons. Children under 12 stay free. ...
Check Hotel Availability
Worldwide Hotels