Tumut Hotels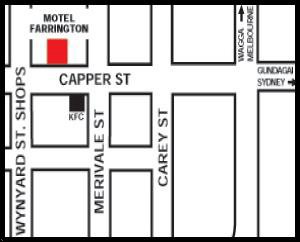 Best Western Motel Farrington

71-73 Capper Street
Tumut, NW AU
Rating: MOBIL RATING:
With their own unique brand of city professionalism and country hospitality, Graham and Gail welcome both Corporate and Holiday guests to the recently renovated Motel Farrington in Tumut. Whether it?s Gail?s friendly smile, Graham?s need for a bit of a yarn or the galahs waking you up in the morning, you will feel that the Motel Farrington is an excellent home away from home. Tumut (an Aboriginal word meaning a quiet resting place by the river) is an ideal holiday location as well as a thriving business centre for the local timber and horticultural industr ...
Country Comfort Tumut

124 Wynyard Street
Tumut, NW AU
Rating: 4 Stars
4 stars two level country Motel featuring licensed restaurant ...
Check Hotel Availability
Worldwide Hotels