Orta San Giulio Hotels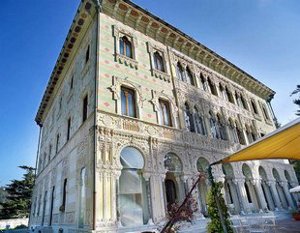 Hotel Villa Crespi

Via G.Fava 18
Orta San Giulio, IT
Rating: Four stars
Pass the gate and penetrate in the wide park of "Villa Crespi" means to immerse oneself in the past, till the end of the last century. In 1880 the lombard cotton industrial Benigno Crespi, who travelled frequently in oriental countries, started to build near Orta this unusual Islamic residence by the side of the romantic lake. During the century industrialists and poets, princes and sovereigns were guests in "Villa Crespi". Now the residence is transformed in an exclusive hotel. It gives the opportunity to sl ...
Hotel Fontaine Bleue

Via Novara 67
Orta San Giulio, NOV IT
Rating: 3 STAR(S), 0 (S)
Source of inspiration for poets and writers the lago of Orta has length of 13,5 Km approximately. Its rivers, inhabited since the antiquity, evangelizzate in IV the century from Saint Giulio. The river basin, of lengthened shape, is situated to a quota approximately 290m and has one the maximum depth of 143m. The surrounding landscape is characterized from forests, mountains and countries, hour points out on the water, hour to you disposed on terraces. The Mottarone mount with active sciistici systems in the winter season is the p ...
Check Hotel Availability
Worldwide Hotels