Sion Hotels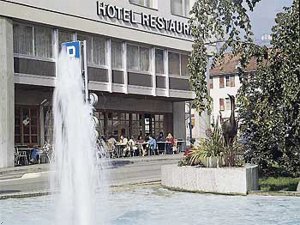 Best Western Hotel Du Rhone

10, rue du Scex
Sion, CH
Rating: MOBIL RATING:
The Best Western Hotel Du Rhone is situated in a quiet, central area in Sion. This well-run house provides a marvelous view of the Alps and is an excellent point for excursions to the famous side valleys of the Alps. Start your day with our complimentary breakfast buffet. Take advantage of our restaurant, lounge, complimentary newspaper and our parking facilities. Our rooms feature a remote controlled cable television, desk and mini-bar. ...
Avenue Grand Champsec 21
Sion, CH
Rating: T Star - OHG, 2 Star - Local star rating,
The Ibis Sion hotel is on the outskirts of Sion, close to the Chateau de Tourbillon and Valere Basilica, 2 km from the airport. You will be in the heart of the canton of Valais, not far from some of the biggest snow sport and summer resorts Nendaz . Boo. k one of our 71 rooms of which 36 have WiFi Internet and 3 are adapted for guests with limited mobility and make use of our restaurant, bar, 24hr snacks, terrace area, 3 meeting rooms and free parking. Golf and tennis facilities are just 1 km away. ...
Check Hotel Availability
Worldwide Hotels